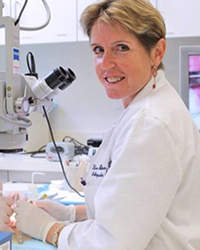 Yelena Akelina, DVM, MS is a Research Scientist and a Director/Instructor in Clinical Microsurgery at the Microsurgery Research and Training lab at the Department of Orthopaedic Surgery, Columbia University. She has been teaching microvascular surgery to different medical personnel from all over US and abroad since 1996. Dr. Akelina completed her Doctrine of Veterinary Medicine from Moscow Veterinary Academy in 1987 and obtained her Master Science in Toxicology in 1991.
Dr. Akelina is one of the founders of IMSS (International Microsurgery Simulation Society) and an active member of many other domestic and international societies for the microsurgery such WSRM (World Society for Reconstructive Microsurgery), ASRM (American Society for Reconstructive Microsurgery), RAMSES ( Robotic assisted microsurgery society), ISEM ( International Society for Experimental Microsurgery).
The program she runs at Columbia University train microsurgery to more than 200 surgeons and researchers a year from many institutions form all over US and from more than from 60 countries.
Dr Akelina is also Principal Investigator for many microsurgical research projects and well-published in main peer-review journals.
The main goal of training program she directs is to teach surgeons to perform surgery on a very small (1mm diameters) vessels and nerves using microscopes so they can perform similar surgery on people and save lives.