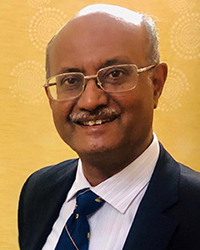 Dr. S. Raja Sabapathy is currently the Chairman, Division ofPlastic, Hand & Reconstructive Microsurgery, Ganga Hospital, Coimbatore, India.  It is a 500 bed tertiary referral centre for Plastic Surgery and Orthopaedics.
He had a brilliant academic career passing out as the Best Outgoing Student from Stanley Medical College, Madras standing first in Medicineand Surgery in the Madras University.  Subsequently he trained in Chennai, UK and USA.  The efforts of the Plastic and Orthopaedic Departments of Ganga Hospital in the management of major trauma revolutionized trauma care in the country and have been followed as a model in many countries. This has led to many invitations for eponymous lectures and has delivered 30 orations, chief among them being the Douglas Lamb lecture at the Royal College of Surgeons, Boonzaire lecture at the South African Hand Society, Sushruta Guha Professorship of the Royal College of Surgeons, Edinburgh and has over 75 academic awards, 300 international presentations and 400 national presentations.  He was conferred the Hon Fellowship (Hon FRCS) of the Royal College of Surgeons and Physicians of Glasgow, Hon Membership of British, South African Hand Societies and Serbian Microsurgery society.
He has been the Visiting Professor in Mayo Clinic, Yale University, Michigan University, Washington University, Singapore, Malaysia, Sri Lanka and Bangladesh.  He has co-authored a Microsurgery Practice Manual and has published 127 papers and 44 book chapters.  The Microsurgery training lab is considered as one of the best in the world. 1978 surgeons from 67 countries have visited the unit, an unique feat unmatched by any other unit in the country, The institution has also introduced Ganga Air Ambulance which is the first hospital based air ambulance service in the country.
He has also taken administrative positions and has been the Organizing Chairman of the Triennial Congress of the International Hand Surgery congress (2013) and the World Microsurgery congress (2015), and the only person who has had the opportunity to be the chair of both these prestigious congresses.  At present he is the President Elect of the Asian Pacific Federation of Societies for Surgery of the Hand, Council member of the International Federation of Societies for Surgery of the Hand.  He has held the presidencies of the Association of Plastic Surgeons of India, Indian Society for Surgery of the Hand, Indian Society for Reconstructive Microsurgeryand Brachial Plexus Surgery Group of India.