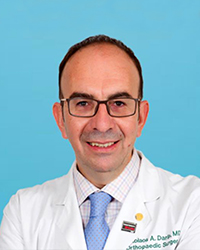 MD, PhD
Metropolitan Hospital, 9, Ethnarchou Makariou Street, Neo Faliro, Athens, Greece
Upper Extremity Surgery| Sports Medicine| Reconstructive Microsurgery
Dr Darlis covers the whole spectrum of Shoulder, Elbow and Hand Surgery both in trauma and elective surgery. The disorders he treats range from fractures and dislocations to ligament injuries and overuse syndromes to arthritis and adult reconstruction. 
Dr Darlis specializes in wrist and elbow arthroscopy. He has several publications in this field and is the first Greek Member of the European Wrist Arthroscopy Society (GEAP/EWAS). He is frequently invited to give lectures on this subject in both national and international congresses. Dr Darlis was the first to perform an all arthroscopic TFCC repair in Greece. His other interests include nerve surgery and nerve transfers and the applications of ultrasound in the upper extremity.
Dr Darlis is an International Member of the American Society for Surgery of the Hand, being  the third Greek Hand Surgeon to receive this privilege in the Society's 65 year old history. He maintains strong ties with the Pittsburgh Hand Surgery community.
Dr Darlis was born on the island of Lesvos, Greece in 1969 and raised in Athens, Greece. He has both Greek and Australian citizenships by birth. He graduated from the Medical School of the Aristotelian University of Thessaloniki, Greece in 1994 with Honors. He completed a five-year residency in Orthopaedics at the University Hospital of Ioannina, Greece from 1998 to 2003. His doctoral thesis on flexor tendon reconstruction using silicon rods was  published in the prestigious Journal of Hand Surgery (American edition) and the Journal of Paediatric Orthopaedics (American Volume), constituting the first contributions ever to those journals by a Greek institution.
The volume of his scientific and clinical work earned him two prestigious scholarships from Greece which permitted him to pursue postgraduate training in the US. He was trained in the Upper Extremity and Microsurgery Fellowship Program of Allegheny General Hospital of Pittsburgh, PA (affiliated with Drexel University, Philadelphia, PA) under Prof Dean G. Sotereanos for a total of 2 years as a Clinical and Research Fellow. 
Dr Darlis has been in private practice in Athens, Greece since his fellowship as an exclusively Upper Extremity Surgeon. He joined the Upper Extremity & Microsurgery service of the Metropolitan Hospital, Athens, Greece in 2013. 
He has been past Secretary-General for the Hellenic Hand Surgery Society (2016-2017) and President- elect for 2021 for the Hellenic Reconstructive Microsurgery Society. He is also  an active member of the Hellenic Arthroscopy Association"George Noulis".
Dr Darlis maintains an active interest in education and academics. He participates as a lecturer and instructor in most of the seminars and congresses of his subspecialty in Greece. He has extensive experience in wet lab training in hand, wrist and elbow in open, microsurgical and arthroscopic techniques. He is the principal instructor in the only wrist arthroscopy training course in Ioannina, Greece.  He is faculty in the postgraduate program on Biomechanics in Orthopaedics from the University of Athens.
During the past 15 years he has contributed as an author in over 100 scientific papers; 60 of those papers were presented in international congresses. He has published 15 book chapters and 45 international papers and abstracts and he is listed as first author in most of his scientific work. He is a reviewer for the Journal of Hand Surgery Global Online.