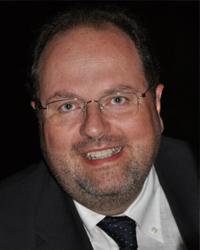 Prof Dr Med Michele R Colonna. Born on 1.10.1964, attended the classical studies and got the Medical License in July1988 at the University of Messina Medical School.
He got the postgraduate Degree in Plastic Surgery in July 1993 at the University of Milan Postgraduate School of Plastic Surgery.
In 1995 he was certified by the European Board of Plastic, Reconstructive and Aesthetic Surgery. Since 1991 and up to the end of 1996  he worked as an Assistant Professor at the Institute of Plastic Surgery of the University of Milan, where he was charged of the Centers for Biomaterials and Biotechnologies, Eidomatics and Robotics, Tissue Banking and Criobiology.
He also attended the Burn Center, the ward and the operation theatres of the Division of Plastic Surgery at the Niguarda Ca' Granda Hospital in Milan and the teaching Hospital for Microsurgery and Hand Surgery in Castellanza (Varese), directed by Prof Ezio Morelli and under the supervision of Prof Giorgio Pajardi. In 1994 Fellow, European Board of Plastic Surgery.
He moved at the end of 1996 to the University of Messina, where he kept on teaching and practicing plastic and hand surgery at the University Hospital
In June 2000 he got the Degree in Wound Healing at the University of Montpellier Medical School.
In December 2002 after State examination he was appointed Associate Professor of Plastic Surgery.
In 2003 he was appointed Head of the Unit of Plastic Surgery at the Messina University Hospital; in 2004 Coordinator of the PhD Program in Plastic Surgery and in 2007 Director of the Postgraduate School of Plastic Surgery in  the  same University.
On December the 2nd 2019, appointed Full Professor of Plastic Surgery at the University of Messina, Italy
He attended several foreign medical institutions (Prof Millesi, Vienna, Prof Raphael, Grenoble, Prof Teot, Montpellier, the British Society for Surgery of the Hand) and several Congresses and Courses, also as a Lecturer. He published 87 scientific papers in the different fields of Plastic Surgery and is a member of the IPRAS, ISSH, ASPS, ASSH.