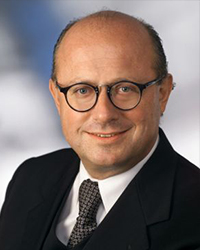 Born 01.01.1955, Vienna 
1973   Graduation from high school.
1979   M.D., Vienna University Medical School.
1985   D.D.S., Vienna University Dental School.
1987   Specialist degree: Oral- and Maxillofacial Surgery.
1987   Private Practice for OMFS, in Vienna and Korneuburg, Austria
1988   Head of the society for head and neck surgery within the ASSO/ACO (Austrian Society for Surgical Oncology)
1990   Head: Dept for Maxillofacial Surgery, "Evangelisches Krankenhaus Wien ".
1994  Consultant for Maxillofacial Surgery, Dept. for Plastic and Reconstructive surgery, Wilhelminenspital, Vienna.
1996 President of Austrian Society of Surgical Oncology (ASSO/ACO) till 1998 of the Austrian Society for Surgery (ÖGC) http://www.aco-asso.at/
1996  First description of Prefabricated complex transplants for reconstruction of facial defects together with Prof. J. Holle
1998 Associate Professor for Maxillofacial Surgery,  University of Vienna.
Nomination as national delegate to the European Society for Surgical Oncology (ESSO) http://www.essoweb.org/eursso/
2000   Establishing maxillofacial distraction osteogenesis in Austria for plastic-reconstructive and orthognathic surgery
2002   Co-founder of the interdisciplinary maxillofacial unit at the department for plastic and reconstructive surgery at the Wilhelminenspital Vienna
2002   Founding president of the Society for Implantology and TissueIntegrated Prosthesis (GIGIP) 2003 associated with the Austrian Society for Surgery in an extended version. (Work groups: Craniofacial/Head and Neck, Thorax, Abdomen, Musculoskeletal System) http://gigip.org
2007   President of the international conference on the topic of "function based facial esthetics – Esthetics follows function" 15. / 16. June 2007 in Vienna
2012  Description of complex osteoplastic procedures combining bone grafting with distraction osteogenesis at the 10 – Years Anniversary of the GIGIP
2013   Description of "Restorative Surgery" providing facial aesthetics and function in reconstructive maxillofacial surgery; Plastic Surgery Hyperguide/Aesthetics
http://www.plasticsurgery.hyperguides.com/default.aspx?sid=269
2015  International Associated Member of the American Society of Maxillofacial Surgeons (ASMS)
Editorial Board of the J Craniofacial Surgery
2015  84 Invited international  lectures
136 publications
32 Pub Med listed publications
1 Surgical Therapy of Head and Neck Cancer/ Chirurgische Therapie von Kopf-Hals-Karzinomen
Eds: Kurt Vinzenz, Hans Werner Waclawiczek,  Springer Verlag Wien-New
York 1992 http://link.springer.com/book/10.1007/978-3-7091-9087-6
Memberships:
Austrian Society for Surgery (ÖGC) http://www.chirurgie-ges.at/
Austrian Society of Surgical Oncology ASSO/ACO http://www.aco-asso.at/
Society for Implantology and TissueIntegrated Prosthesis (GIGIP) of the ÖGC  http://gigip.org
International Academy of Oral Oncology (IAOO) http://www.iaoo.pro/en/
American Society of Maxillofacial Surgeons (ASMS) http://www.maxface.org/