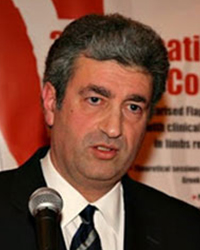 Dr Ioannis Ignatiadis absolved the Medical School of Aristoteleion University of Thessaloniki-Greece in 1987 and he obtained the title of a fully qualified Orthopedic Surgeon in 1995.
Dr Ignatiadis was nominated "Doctor in Medical Sciences"of Ioannina Univerity/Medical School in June 2016, while he past his PhD Thesis examin December 2015 with grade excellent.
Dr Ignatiadis collaborates with ATHNENS MEDICAL CENTER/PSYCHICO CLINIC since May 2013 as Head of Reconstructive limb microsurgery Dept. Dr Ignatiadis worked as Consultant Orthopedic Hand surgeon (1999-2011) at the Departments of Hand-upper limb and Microsurgery of KAT Hospital-Athens-Greece, the single such a strict specialized and called department in Greece.
During the period 1994-97 dr Ignatiadis was introduced and further trained in Hand surgery and in microsurgical techniques in:
a) Hand and microsurgery clinic-KAT Hospital-Athens as fellow (1,5 year).
b) Institut de la main,Clinique Jounenet,Paris-France (6 month)
c) PulvertafttHand Center, The Royal Derbyshire Infirmary-NHS Trust-Derby-UK (3 month),
d) Peripheral nerves injuries and congenital hand unit, The Royal Orthopedic Hospital, Stanmore. London, UK (1 month).
e) Hand Surgery Clinic, Salhrenska University Hospital, Goteborg, Sweden (3 month).
Dr Ignatiadis has performed experimental protocols and participated in researchprojects and co-organised with The Romanian team of Microsurgeons a series of 6 International courses of Vascularised flap dissection in living tissue (pigs) inthe years 200-6-11 at ELPEN –PHARMA Co, Experimental research Unit, Athens, Greece.
Dr Ignatiadis has also published a lot of articles in scientific journals and written chapters in medical books.