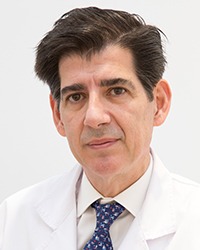 Born in Santander, Spain. 1960.
MD and PhD degrees from University Complutense. Madrid. 1983 and 1989.
Plastic Surgery training in Hospital Universitario 12 de Octubre. Madrid 1983-1988.
Fellow in Microsurgery with Ian Taylor (Melbourne, Australia). 1989.
Fellow in Hand Surgery in Kleinert Group (Louisville, KY, USA) 1990.
Editor in chief of 4 books:
Arthroscopic management of distal radius fractures (Springer 2010).
Arthroscopic management of ulnar pain (Springer, 2012).
Atlas of distal radius fractures (Thieme 2018).
Distal Radius Fractures and Carpal Instabilities (Thieme 2018).
Publications: papers and chapters more than 100 and 400 presentations.
Keynote speaker: American, Australian, Argentinian, British, Belgian, Chilean, Chinese, Dutch, Finnish, French, Hongkongnese, Indian, Italian, Japanese, Mexican, Polish, Portuguese, Spanish, South African, Taiwanese… Hand, Microvascular and Plastic surgery societies.
Main interests: Arthroscopy, Microsurgery, Pain.