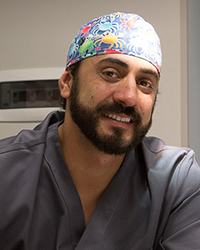 University Degree in Medicine and Surgery with honours (July 2008, UCBM, Rome, Italy/University of Genoa, Italy)
Executive Master in Healthcare and Pharmaceutical Administration – EMPHA (December 2009, LUISS Business School)
Post-graduate Course in Surgery of Lymphatic Diseases and Microsurgery with honours (December 2009, University of Genoa, Italy)
Plastic, Reconstructive and Aesthetic Surgery Specialty with top marks (Board Certified in June 2014, University of Genoa, Italy)
International Master's Degree in Reconstructive Microsurgery (MRM; March 2014, UAB, Barcelona, Spain)
PhD in Experimental Surgery and Microsurgery (February 2015, University of Pavia, Italy)
Clinical Lymphology, Lymphatic Surgery and Microsurgery (University Master's Degree with honours, December 2015)
Dr. Campisi has produced more than 70 scientific publications in renowned International Journals of Plastic Surgery, and Lymphology, and many Chapters in National and International Textbooks. He is actively involved in many International Scientific Committees in his field including: Executive Committee Member of the International Society of Lymphology (ISL), and Councillor of the International Society for Experimental Microsurgery (ISEM). Dr Campisi is a faculty member, lecturer and instructor at the annual International Oldenburg-Groningen "Fresh Cadaver Flap Course". In the clinical sphere, he is well-known for his experience in the treatment of lymphatic disorders, particularly his role in the refinement of the single-site Superficial and Deep Multiple Lymphatic Venous Anastomoses (SS-MLVA) by supermicrosurgical technique, and the development of the 'lymph vessel sparing' procedure for liposuction, in advanced cases of peripheral lymphedema, which are procedures that have been also adopted by many international centers, including Harvard and Memorial Sloan Kettering Cancer Center in the US, for the prevention and staging-guided treatment of lymphedema.
Current Positions:
University of Catania, Catania, Italy: Adjunct Professor of Plastic, Reconstructive & Aesthetic Surgery
Villa Scassi Hospital, Genoa, Italy: Department of Plastic Surgery, ASL – 3
Salus Hospital, GVM Care & Research, Reggio Emilia, Italy:
Plastic, Reconstructive and Aesthetic Surgery, Department of Surgery
Lymphatic Surgery and Microsurgery, Department of Surgery
ICLAS, GVM Care & Research, Rapallo, Genoa, Italy:
Plastic, Reconstructive and Aesthetic Surgery, Department of Surgery
Lymphatic Surgery and Microsurgery, Department of Surgery
Campisi & Partners, Genoa, Italy:
Health Director
Plastic, Reconstructive and Aesthetic Surgery
Plastic and LASER Procedures
Lymphology Medicine and Surgery
Lymphatic Surgery and Microsurgery