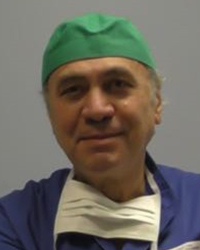 Prof., M.D., Ph.D., FACS, MD H.C., Prof. H.C.
Professor Campisi graduated in Medicine and Surgery at the University School of Genoa (1973), with honours and completed specializations with honours in Vascular Surgery (Genoa, 1976), General Surgery (Genoa, 1981) and Emergency Surgery (Modena, 1986). Full Professor of General Surgery, at the University of Genoa, Italy, Professor Campisi is the Director of the Section & Research Center of Lymphatic Surgery, Lymphology, and Microsurgery at the Department of Surgery, University School of Medical Sciences and Pharmaceutics.
He is the author of more than 700 scientific publications, 9 monographs and numerous chapters in National and International textbooks. In his clinical capacity, Prof. Campisi has treated more than 5100 patients affected by lymphatic disorders, with long-term follow-up of more than 5 years to more than 20 years, using his "single-site" derivative / reconstructive lymphatic microsurgery techniques. The recent development of a lymph vessel sparing approach to liposuction has allowed the safe and effective treatment also of the advanced stages of lymphedema. In addition, Prof. Campisi is a world-renowned expert in the assessment and treatment of Chylous Disorders and associated conditions.
Present Offices:
H.C. Degree in Medicine and Surgery – Faculty of Medicine, Valença/Rio de Janeiro (Brazil): 11-09-1996.
H.C. Professorship, Faculty of Medicine, Valença/Rio de Janeiro (Brazil): 30-09-1999.
President of the Italian Society of Lymphangiology – Italy Chapter of the International Society of Lymphology (ISL)
President of the ISL Latin-Mediterranean Chapter
Past-President of the International Society of Lymphology (ISL): 1995-1997
Co-Chairman of the ISL Past-Presidents Advisory Committee
Past-President of the European Federation of Societies for Microsurgery: 2008-2010
Past-President of the European Society of Lymphology (g.e.l / ESL)
Past-President of the Italian Society of Microsurgery
Past-President of the International Society for Experimental Microsurgery: 2006-2008
President of the ISL XVIII International Congress of Lymphology (Genoa, Italy, Sept. 3-7, 2001)
Member of the International Research Advisory Board, San Diego Microsurgical Institute and Training Center- La Jolla, California, U.S.A.
Member of Executive Committee of the Italian Society of Emergency Surgery and Trauma, Probiviri Committee
Past-President of Executive Committee of the Italian Society of University Surgeons
Past-President of the Italy Chapter of the American College of Surgeons – ACS
Co-Editor of Lymphology (Official Organ of ISL)
Past Editor-in-Chief of the European Journal of Lymphology and Related Problems
Member of Editorial Boards of many Surgical and Angiological National and International Journals