Alberto Ballestin Rodriguez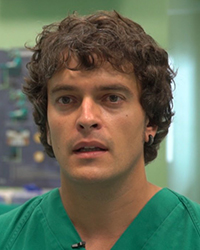 DVM, MSc, PhD
Researcher, educator and surgeon at the Microsurgery Unit of CCMIJU (Cáceres, Spain).
International PhD Cum Laude "Free tissue transfers in reconstructive microsurgery" (University of Extremadura/Columbia University).
University Master's degree in Research in Health Sciences and Doctor of Veterinary Medicine (University of Extremadura).
Scientific Publications:
Author and co-author of papers published by the main journals in the field of reconstructive microsurgery: Plastic & Reconstructive Surgery, J. Reconstructive Microsurgery, PLoS One, British Journal of Surgery and Neural Regeneration Research.
Scientific Societies:
President of the International Microsurgical Simulation Society (IMSS).
EFSM council member and treasurer (European Federation of Societies for Microsurgery -EFSM)
Vocal of the Board of Directors of the Spanish Association of Microsurgery (AEM).
Member of the Spanish Society for Surgical Research (SEIQ).
Teaching activities:
Educator in more than 70 courses related to microsurgery.
Lecturer in 6 Universitary Master's Degrees.
Approved research projects:
– Researcher in 3 public funded research and development projects.
– Study Director in several private funded research studies under Good Laboratory Practice regulations.
– Researcher in more than 10 private funded research and development projects.
Scientific Conferences:
Invited Keynote speaker in more than 10 national and international congresses.
More than 40 communications in national and international scientific congresses.
Awards:
6 national and international awards in conferences: best paper prizes, best young researcher, outstanding oral presentation awards.
Patents:
Author and inventor of a patent registered in the Spanish Patent and Trademark Office (OEMP): P201400272.